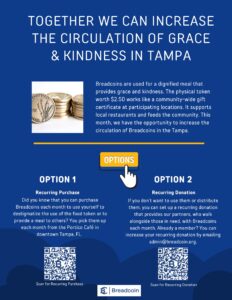 Breadcoins are used for a dignified meal that provides grace and kindness. The physical token worth $2.50 works like a community-wide gift certificate at participating locations. It supports local restaurants and feeds the community. This month, we have the opportunity to increase the circulation of Breadcoins in Tampa.
Did you know that you can purchase Breadcoins each month to use yourself to destigmatize the use of the food token or to provide a meal to others? You pick them up each month from The Portico Café in downtown Tampa.
If you don't want to use them or distribute them, you can set up a recurring donation that provides our partners, who walk alongside those in need, with Breadcoins each month. Already a member? You can increase your recurring donation by emailing [email protected].