Breadcoin Foundation is excited to announce that its founder, Dr. Scott Borger, joined the Breadcoin team as CEO beginning September 25! It is an important and exciting milestone for Breadcoin.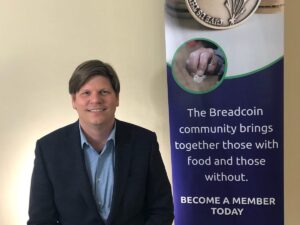 Scott will provide strategic leadership in the areas of finance, technology, brand awareness, staff development, and program operations in his new role as CEO. This will also create space for co-founder Cary Umhau to focus on her passion to cultivate the community network of donors and partners as the Director of Growth and Development.
Scott's decision to accept this role will add capacity at a critical time. With close to 120 participating locations in four states and the District of Columbia, Breadcoin has been able to create a community food token that expands food access, provides a dignified meal, and supports local businesses. All of this is because of your generosity and the hard work of so many — thank you.
With the organization on the precipice of exponential growth, the Breadcoin Foundation's Board of Directors was deeply grateful to learn that Scott and his family have made the big decision to leave his current career and was willing to cut his pay by two-thirds in order to lead as CEO. Scott shared, "[Co-founder] Cary and I look forward to working together with our exceptionally talented team so that more people in more cities are empowered and fed. I'm honored to be leading such vital work at such an important time."