Washington, D.C.
It is with great sadness that I report that Breadcoin Board Member and Treasurer Ann M. Doyle
passed away this morning. My heart grieves for all those she left behind: Mike Doyle with the loss of his beloved wife, her children for the loss of their beloved mother, her grandchildren for the loss of their beloved grandmother, and for the Tampa community that has lost a champion for those who lacked resources.
Ann was a quiet force of transformation with proven leadership in the Tampa and Minneapolis communities where she served. If Ann spoke in a meeting, you listened because within each of those comments contained the deep wisdom of her many years of serving her family, her church, the organizations that she led, and the communities that she loved. She was a servant leader with a big heart. She loved her God, her husband, and her family.
Ann had an incredible amount of patience — the first attribute of love that Paul wrote about in I Corinthians 13 — and sought to change the world by being a patient revolutionary. She taught me through the story of Dorothy Day that if we were going to live a profound life, we should live it in radical hospitality towards those on the margins.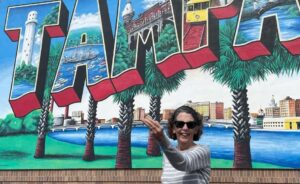 Ann was the Tampa Regional Coordinator for Breadcoin — the community food token that provides the dignity of choice to those who are hungry. The picture above was taken at the beginning of February when Breadcoin launched in the Tampa area.
May all who knew her follow her lead by listening more, talking less, and loving everyone we encounter. We love you Ann!